Cheddar brioche rolls and chipotle-baked beans
Print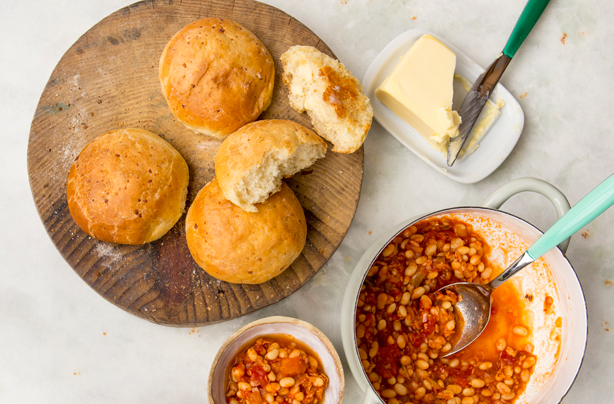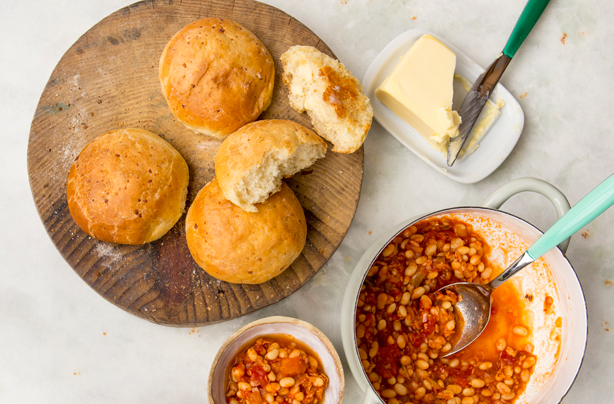 Serves: 4

Prep time:

Cooking time:

Total time:

Skill level: Easy peasy

Costs: Cheap as chips
These delicious Cheddar brioche rolls and chipotle-baked beans are a match made in heaven. Infused with a rich cheesy Cheddar flavour, these soft brioche rolls are so simple to make at home. Fill each roll with homemade smoked chipotle-baked beans for comfort food at it's finest. This recipe serves 4 people and will take about 3hrs to make in total. It's the ideal recipe for preparing in advance if you have friends over for lunch or want to do something different for a BBQ.
Ingredients
For the Cheddar rolls:
420g plain flour
24g fresh yeast
30g sugar
1 egg
230ml water, lukewarm
100g grated cheddar cheese
Milk for glazing
1 tsp salt
For the baked beans:

100g dried white beans, soaked over night
1 onion, finely chopped
2 cloves garlic, crushed
2 chipotle chillies in adobo, or 1 tbsp. chipotle chilli sauce
3 tbsp. brown sugar
1 tin of chopped tomatoes
500ml chicken stock
4 rashers of smoked bacon, finely chopped
1 sprig of rosemary
1 bay leaf
Sea salt
Black pepper
Olive oil for cooking
Store these rolls in a bread bin or wrapped in paper bag and store in a cool place for up to 2 days.
Method
For the Cheddar rolls:
Preheat the oven 180C/350F/Gas mark 4.
Mix the yeast, water and sugar together in a bowl
In an electric mixer, add the flour, salt, cheddar and egg and mix together on a low speed for 10 minutes
Slowly add the water mixture and mix for a few minutes more
Take out into a bowl and cover with a tea towel
Prove until doubled in size, knock back then shape into bread rolls roughly the size of a plum
Prove again, until risen, then brush with milk and bake in the fan oven for approximately 15 minutes
For the baked beans:

In an ovenproof dish, add a splash of olive oil and then add the bacon
Place on your Leisure hob and cook on a medium heat, until all the fats come out and the bacon is brown
Add the onion, garlic, rosemary and thyme and cook sweat until soft but no colour
Add all the other ingredients, a pinch of salt and a twist of pepper and bring to the boil
Cover with a lid and put in the main fan oven for 2.5 hours
When ready, give it a good stir and eat straight away with the bread rolls
Developed by Dan Doherty for Leisure range cookers
Your rating