Emoji robot cake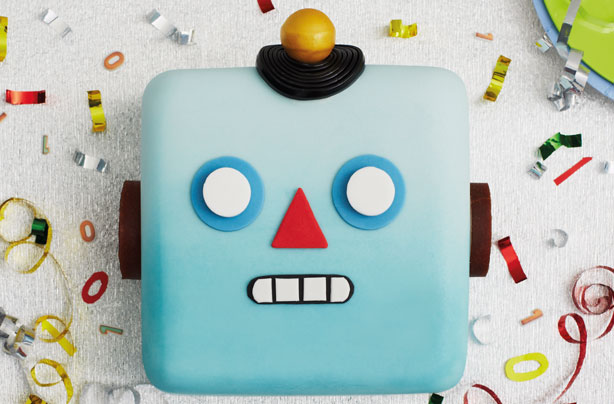 Ingredients
2x 20cm square sponges, in the flavour of your choice
1x quantity of filling in the flavour of your choice
1x quantity of buttercream in the flavour of your choice
1kg blue-grey fondant
Small amounts of white, royal blue, red, black, gold fondant
Edible dust in bluegrass
Edible metallic pale blue lustre spray
Liquorice Catherine wheel
Lollipop sprayed gold
2x red fruit roll-ups
2x white sweets
This impressive emoji robot cake is much easier to make than it may look. This fun cake is the perfect option for special occasions like birthday parties, or themed parties. The kids will love it!

You can use the same techniques explained here to recreate any other emoji that you fancy. As well as cutting out facial features from rolled-out fondant, look for fun and colourful sweets and candy that can be used for eyes, ears, or mouths.

Emojis are slowly but surely taking over the world by storm. We're all obsessed - so much in fact that you can now make edible emoji icons. We've tried our hand at emoji pancakes but emoji cupcakes are certainly next on the list.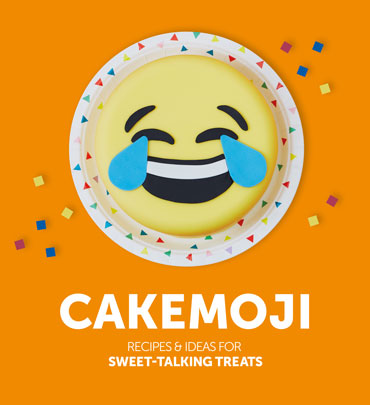 This recipe is part of new cookbook; Cakemoji by Jenni Powell (Quadrille £10) Photography: Rita Platts
Equipment
Paper templates (these can be handmade or taken from Cakemoji cookbook)
A clean paintbrush (that's only been used for food)
1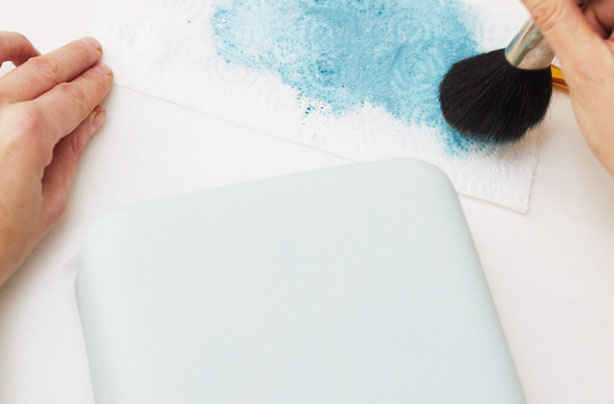 Step 1
Level and layer the sponges and crumbcoat them with a thin layer of buttercream. Chill for 30 minutes.
Roll out the blue-grey fondant
 to 3mm thickness, preferably using spacers to ensure an even thickness. Cover the cake with the rolled-out fondant.
Prepare the coloured dust on a paper towel by blending the bluegrass edible dust gradually with cornflour to achieve a lighter shade.

2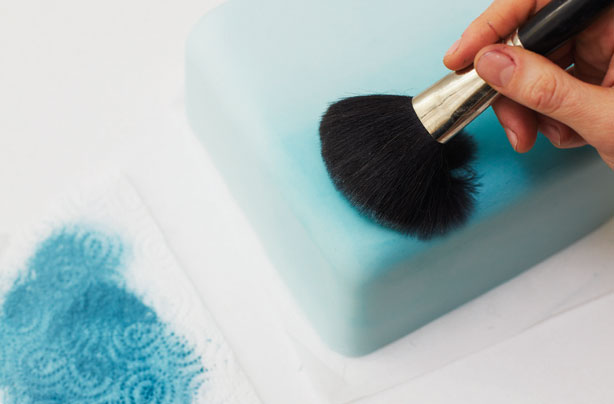 Step 2
Apply the dust to the cake top and sides, working with a lighter shade to start with and gradually building up the colour strength a little at a time.
3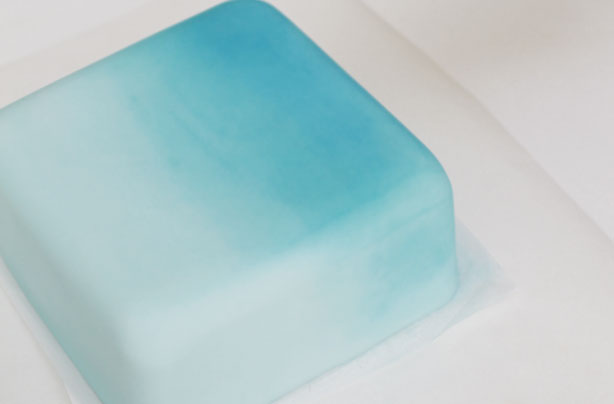 Step 3
Spray the covered and dusted cake with edible metallic lustre.
4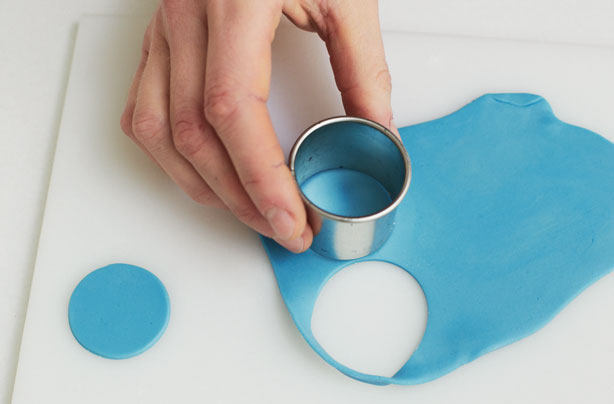 Step 4
Roll out the coloured fondants to 2mm thickness. Using a 2.5cm round cutter, cut out two blue circles for the eyes.
5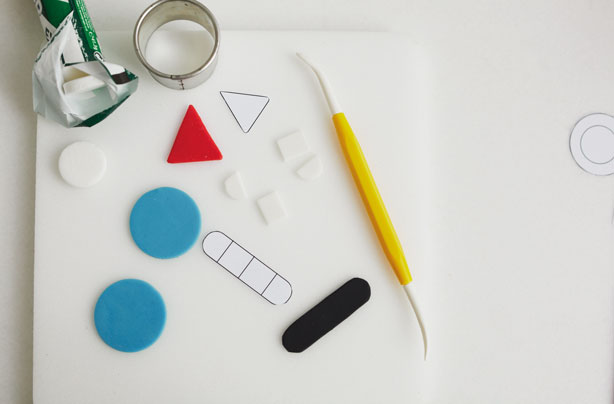 Step 5
Using paper templates and a sharp knife, cut out the row of teeth from white fondant, the nose from red fondant and the mouth from black fondant.
6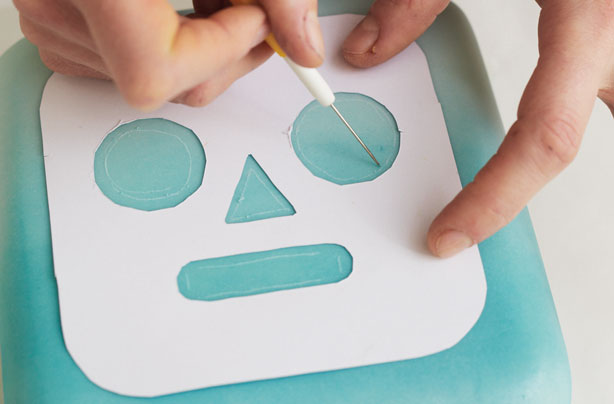 Step 6
Mark the position of each of the facial features lightly on to the fondant cake top to make sure they are positioned correctly.
7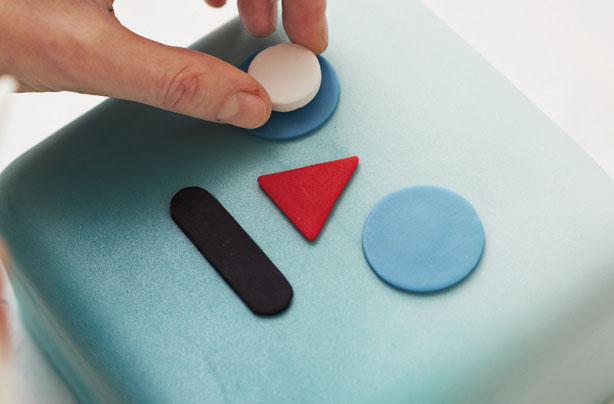 Step 7
Following the markings, place the blue eyes, red nose and black mouth in position on the cake top. Add the white sweet eyes on top.
8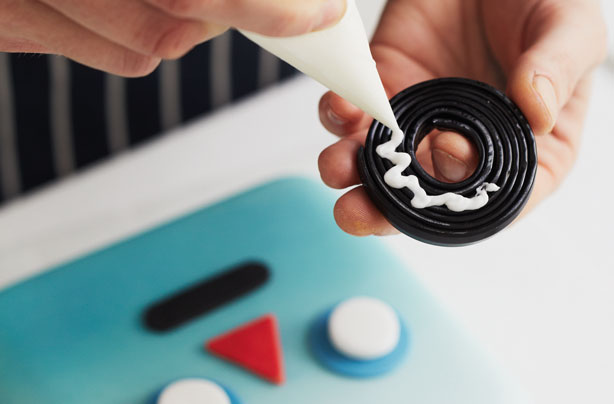 Step 8
Using royal icing, stick the liquorice Catherine wheel to the top of the head, curving it over the edge of the cake top and down to the side edge.
9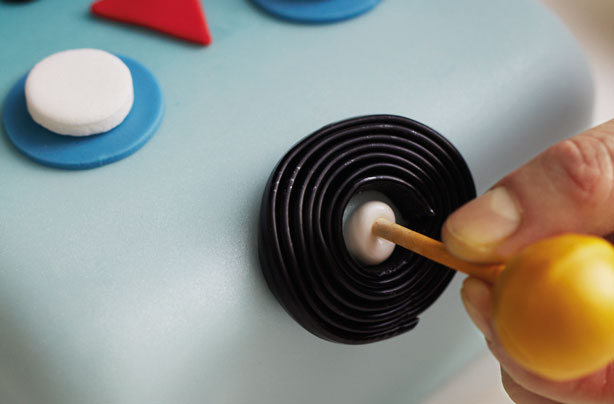 Step 9
Using a tiny blob of fondant to hold it in place, push the lollipop stick all the way into the cake through the centre of the liquorice wheel so only the gold lollipop can be seen.
10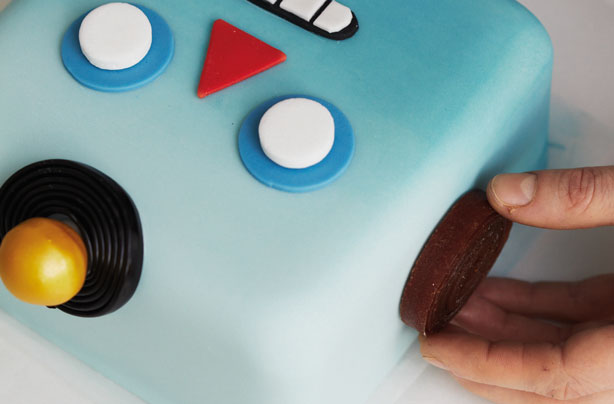 Step 10
Using royal icing, stick one red fruit roll-up on each side of the cake for the ears.
Your rating