FODMAP buckwheat risotto with macadamia cream
Print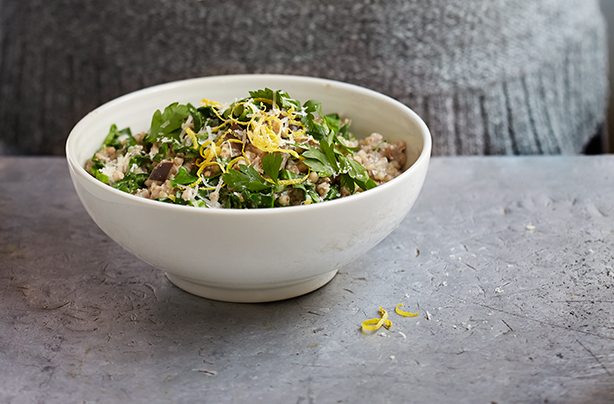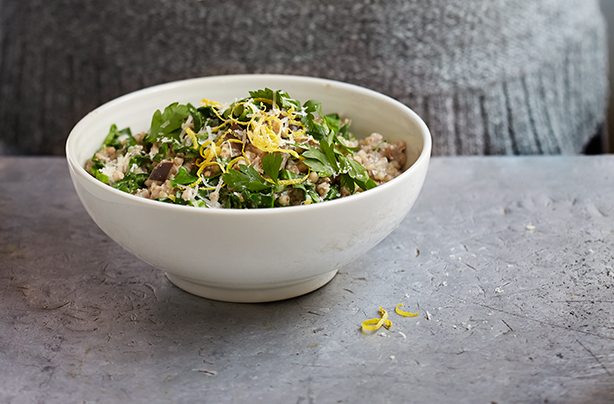 Serves: 4

Prep time:

Cooking time:

Skill level: Easy peasy

Costs: Cheap as chips
Fancy a hearty risotto but following the FODMAP diet? Look no further than this delicious recipe. Thanks to cook book author Emma Hatcher, who specialises in FODMAP-friendly recipes, following the diet plan couldn't be easier, or more tasty! Emma says: 'Mushroom risotto used to be one of my favourites and the aubergines here are a great substitute that provide a very similar texture. Warming and satisfying, this is real 'bowl' food. The buckwheat groats cook in a third of the time of a standard rice risotto, so that you can get more time away from the stove. Plus, its creaminess comes from the macadamia nuts, instead of the butter, offering a different texture and a lovely richness.'
Ingredients
For the risotto
1 large aubergine, chopped into small chunks
2 tbsp garlic-infused oil
255g buckwheat groats
80ml dry white wine
470ml vegetable stock or hot water
150g spring greens
Juice and zest of 1 lemon
1/2 small bunch of fresh parsley, finely chopped
Grated parmesan, to serve (optional)
For the macadamia cream
40g macadamia nuts, soaked for 5 hours or overnight
35g sunflower seeds
160ml water
1/2 tsp sea salt
1 tbsp lemon juice
Method
To make the macadamia cream:
Add all of the ingredients apart from the water into the bowl of a food processor and pulse to combine. While the processor is still running, pour in the water bit by bit, until you reach a thick, cream-like consistency. Leave to one side whilst preparing the rest of the dish.

To make the risotto:
Heat the garlic-infused oil in a saucepan over a medium heat. Add the aubergine and sauté for about 10 minutes or until softened and starting to brown. Add the buckwheat groats to the pan.
Toss and let cook, 'toasting' the buckwheat, for about 1-2 minutes.
Add the wine, stir and let cook until completely absorbed. Ladle in the vegetable stock, a little bit at a time, keeping the mixture at a low simmer.
Each time the liquid is absorbed by the buckwheat, add a bit more, until you've used up all the stock and it's been absorbed fully by the buckwheat. Have a quick taste. The buckwheat should be tender at this point, but not mushy.
Add in the spring greens and lemon juice and cook for another couple of minutes. Take the pan off the heat and stir the macadamia cream.
Divide into bowls and serve topped with parsley, lemon zest, and a little parmesan, if you like.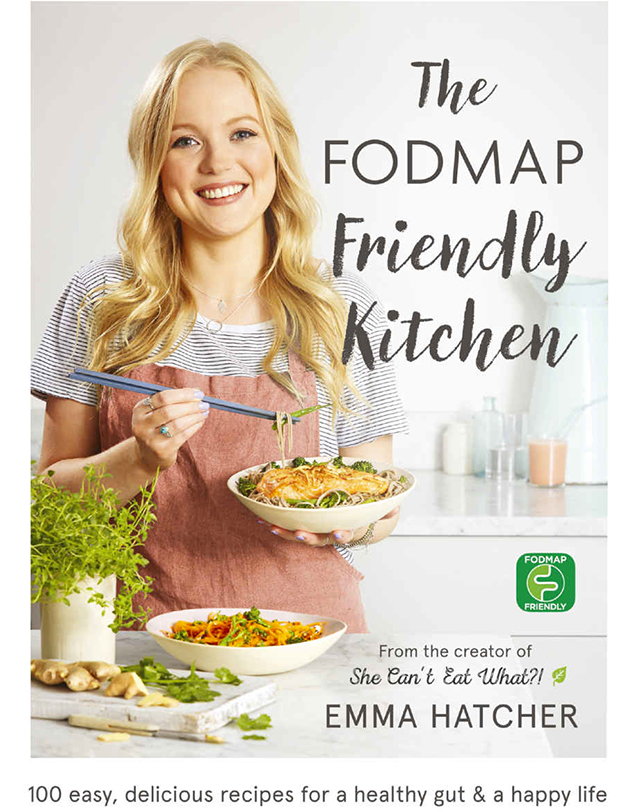 Recipe from The FODMAP Friendly Kitchen - available from Amazon
Your rating