How to make chequerboard biscuits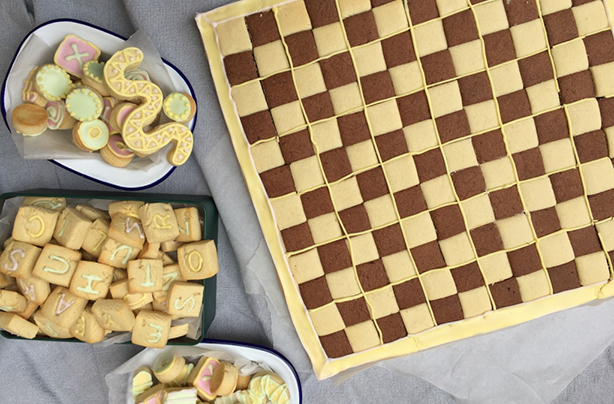 Ingredients
For the vanilla biscuits
220g salted butter
200g caster sugar
2 eggs
550g plain flour
100g cornflour
2tsp vanilla extract
For the chocolate biscuits
130g salted butter
150g caster sugar
1 egg
30g cornflour
70g cocoa
270g plain flour
1tsp vanilla extract
For the icing
1kg icing sugar
30g egg white powder
Your choice of food colouring
180ml water
Our chequerboard biscuits take things to the next level by making the completed chequerboard biscuits themselves big enough to play a real biscuit board game on. Despite the impressive result the process is actually very straightforward, so even if you're a novice baker you'll be able to achieve fantastic results in just a few easy steps.

The trickiest bit is the icing, so if you're not confident with piping then you could always just use pretty biscuit cutters to make your counters and use the biscuits un-iced - they'll still taste great! Board game biscuits featured on the second episode of The Great British Bake Off's seventh series, so we had to have a go at making our own...

The trick to getting a neat edge is the firm cookie dough. We've added in cornflour to help it keep its shape in the oven. Chilling the dough before baking also helps to prevent it from spreading during baking.

Once you've mastered the basic board you can have fun coming up with games to play on it. We love simple classroom games like noughts and crosses, or snakes and ladders as the straightforward shapes lend themselves to being prettily iced.

The best bit though, about these chequerboard biscuits, is obviously that you get to eat them once you've finished playing with them!
1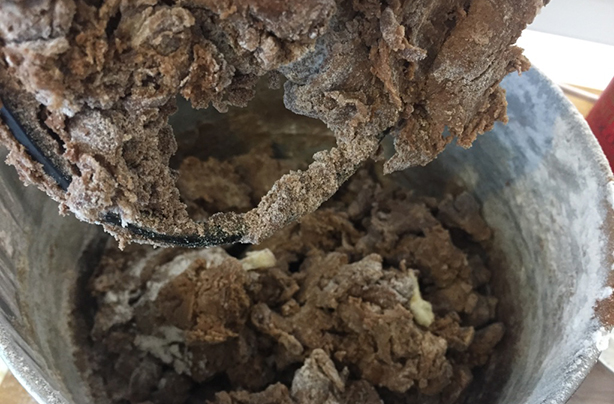 Step 1
Preheat your oven to 190C. To make the vanilla biscuits, combine the butter and sugar until light and fluffy in an electric mixer, using the beating paddle. Once the butter and sugar are combined, add the eggs. Once the eggs are combined add the flour, cornflour and vanilla, and beat until the dough comes away from the sides of the bowl.
To make the chocolate biscuit mixture repeat the above steps in a clean mixing bowl, adding the cocoa in with the flour and cornflour. The mixture might appear sandy to begin with but should come together into a ball eventually.
2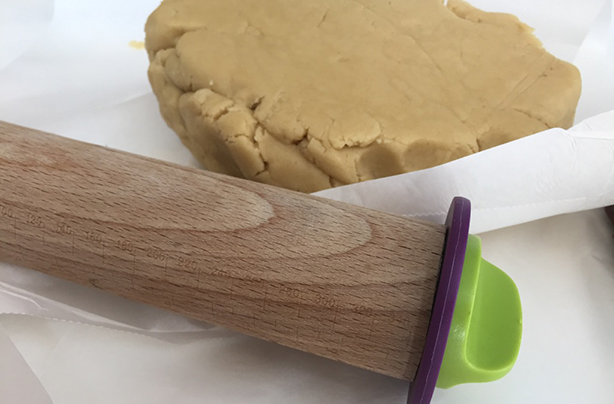 Step 2
Using rolling pin sizers roll both your chocolate and vanilla dough out until each one is roughly 1cm thick. If you donít have rolling pin sizers you can use two 1cm dowels either side of your dough to ensure the same thickness throughout when rolled out.
3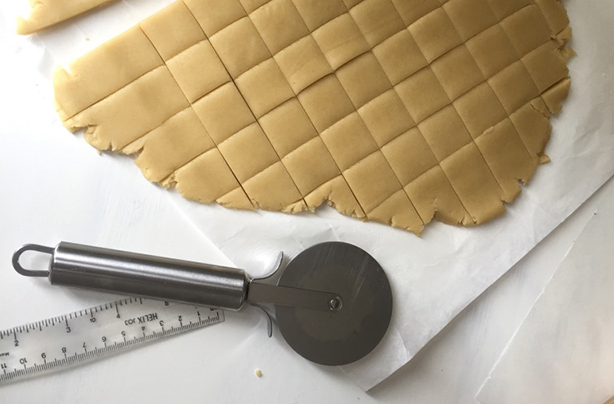 Step 3
Using a ruler and a pizza cutter slice lines 2.5cms wide horizontally into your dough. Next cut the same amount of lines 2.5cms wide vertically, so you are left with small squares. You will need 72 vanilla squares and 72 chocolate squares. Finally cut four long strips from the vanilla dough around 1cm wide to create a boarder.
4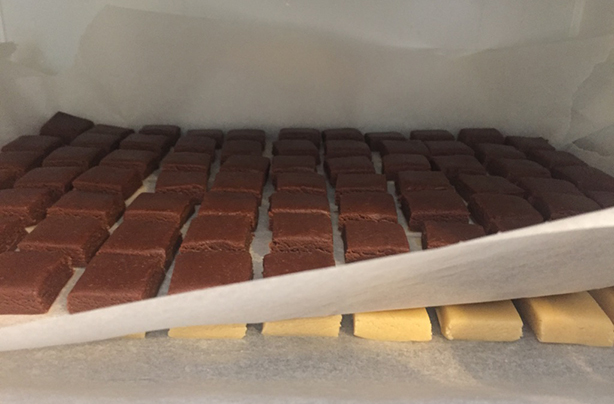 Step 4
Chill all of your cut dough in the fridge for ten minutes to firm up.
5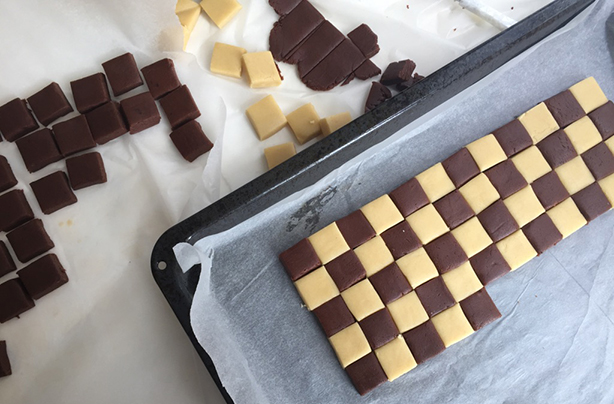 Step 5
Add any final details using your thicker, outline icing. Arrange the biscuits on the board and play!On a baking sheet alternate your vanilla and chocolate biscuits to create a chequerboard finish. Line your chequerboard biscuits with the long vanilla strips
6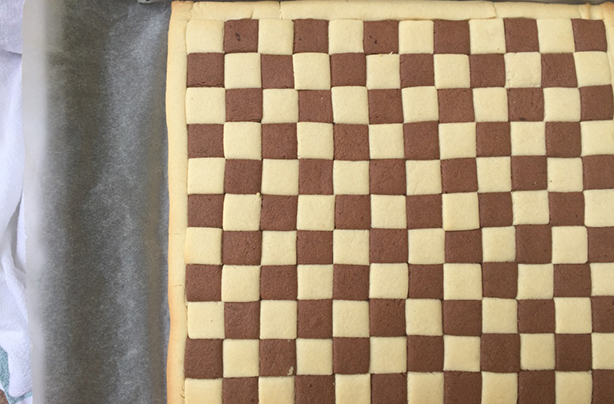 Step 6
Bake for around 10-12 minutes until just starting to colour. Remove carefully from the tray and cool thoroughly.
7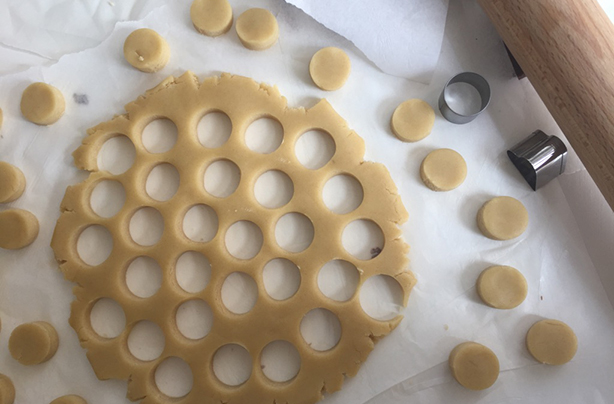 Step 7
To make your game counters cut various shapes from the remaining dough and bake for around 10-12 minutes in the oven again.
8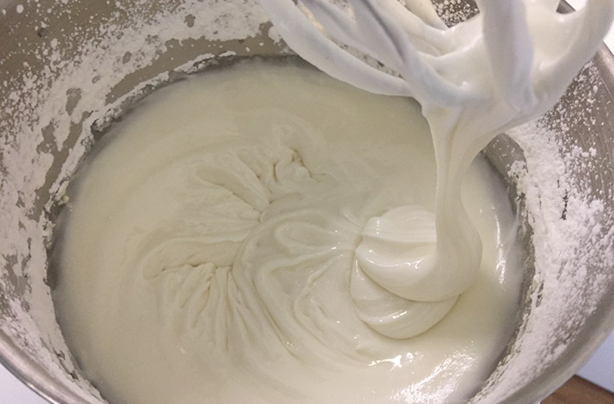 Step 8
To make the icing whisk together all the ingredients until you get the consistency of toothpaste. Preheat your oven to 50C, or its lowest setting. Portion into separate bowls and colour to preference.
9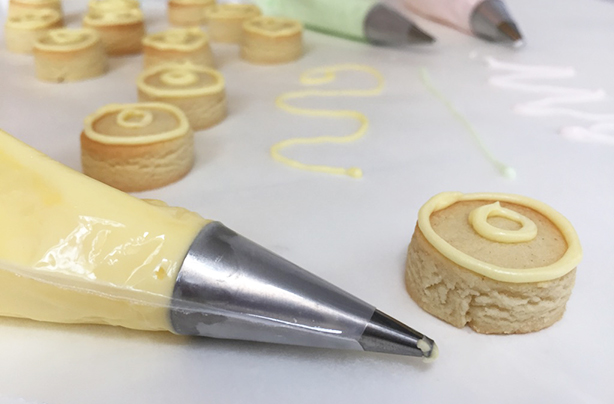 Step 9
To decorate your biscuits with flood icing, fill piping bags with the mixture and practice piping on a piece of greaseproof paper. Carefully pipe outlines onto your counters and leave to dry for a few minutes.
10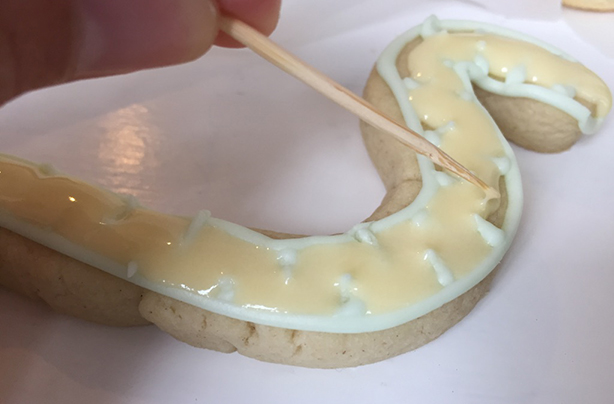 Step 10
Once your outlines have set add a little extra water to your icing mixture so that it will spread more easily. Fill the interiors of your biscuits with this looser mixture, so it spreads to the edges.Use a cocktail stick to help you push the mixture into all the corners if it's a little thick.
11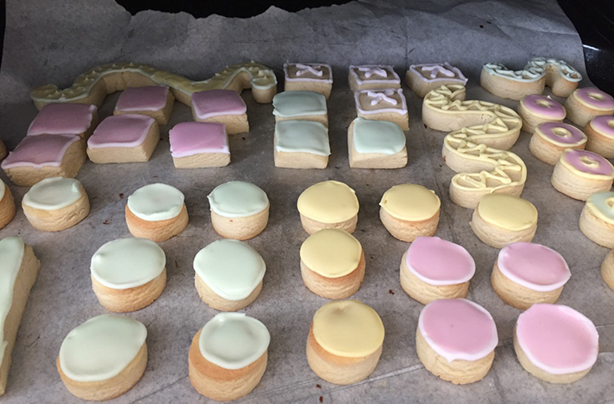 Step 11
Arrange your iced counters on a baking tray and leave in a slightly warm oven to dry for around half an hour. This will help the icing to set with a shiny finish.
12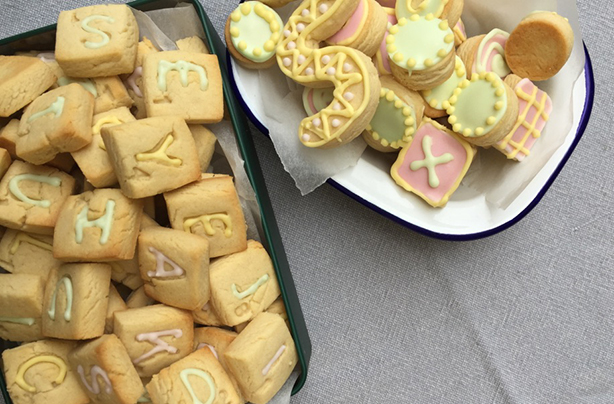 Step 12
Add any final details using your thicker, outline icing.
13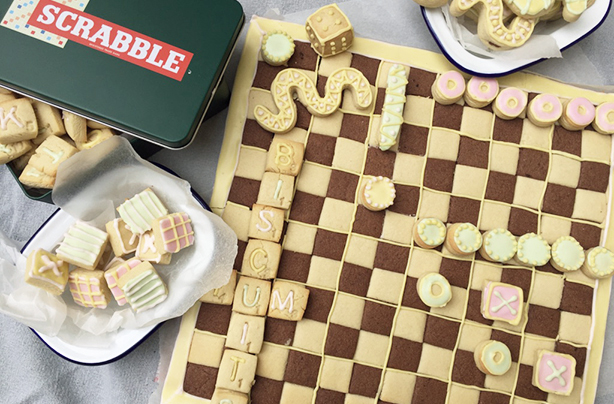 Step 13
Arrange the biscuits on the board and play!
Your rating