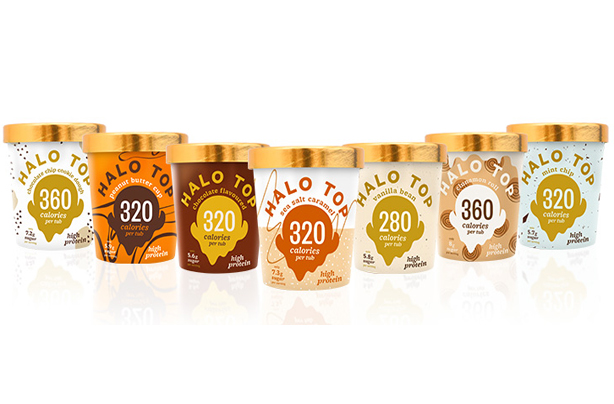 The Halo Top UK launch is the food news we ice cream lovers have been waiting for...
Coming in between just 280-360 calories per PINT of ice-cream, American brand Halo Top's tubs of ice-cold deliciousness are the definition of guilt-free treat. For a quick comparison, a pint of Ben & Jerry's chocolate ice cream comes in at around 1,000 calories per tub – so we're talking about a low-cal ice-cream really ready to give B&J's a run for their money!
The LA-based ice cream company is already incredibly popular overseas thanks to their selection of mouth-watering flavours and low-cal ingredients.
Where the makers behind Halo Top ice cream cut calories, they certainly don't compromise on flavour. As of January 2018, UK shoppers will be able to discover some of the brand's best flavours such as Cinnamon Roll, Sea Salt Caramel, Peanut Butter Cup and Chocolate Chip Cookie Dough.
The reason Halo Top can sell such low-cal ice cream without compromising on the taste is because instead of using sugar to make their product, they use stevia. A natural sweetener, stevia is considered a 'healthy' alternative to sugar and is also said to help reduce blood pressure.
When is the Halo Top UK launch?
So, where can you get your hands on the delicious Halo Top ice cream now that it has launched in the UK? Well, Halo Top is now available at Tesco and Tesco Express stores. Plus, Halo Top will also be available later this month on Ocado and in Whole Foods stores around the UK.
Although Halo top boast over 25 flavours in total in the US – including seven different dairy-free and vegan variants – there are only seven Halo Top ice cream flavours hitting freezers around the UK at this stage.
As well as Cinnamon Roll, Sea Salt Caramel, Peanut Butter Cup and Chocolate Chip Cookie Dough, you will also be able to get your hands on a classic vanilla bean flavour, a simple chocolate tub and mint chip for all the fans of the fresh flavour out there.