Brownie recipes
Chocolate brownies are meant to be gooey in the middle and this simple recipe shows you exactly when it's time to take…

A chocoholic's delight, these rich, gooey double chocolate orange brownies are guaranteed to leave you on a high with…

Dense and truffley in texture, these brownies are finished off with a lightly fluffy topping of marshmallows and a…

Yes, these really are low-fat brownies! With only 3g of fat per square, these delicious, moist rich chocolate brownies…
New brownie recipes
Impress your dinner guests when you…

Learn how to make the perfect pecan…

Brownies are a great American…
Your favourite brownie recipes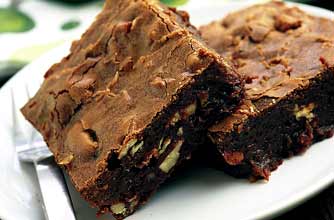 You can't get better than homemade chocolate brownies and they taste even better a day or two after making them, so bake a big batch of brownies and keep them for treats all week. Your favourite chocolate brownie recipes are:
Latest Brownie collections
Liked our brownie recipes? You'll love these...