Chocolate recipes
Lisa Faulkner's chocolate mint biscuits are the perfect treat with a cup of tea. They're really simple to make and taste…

Total time: 30 mins

plus chilling

Slimming World's chocolate brandy pots are really easy to make with yogurt as a base and are ready in just 20 minutes.…

We all have the best intentions when we buy our weekly grocery shop; the fruit bowl is piled high, but by the end of the…

Pancakes are a quick, easy and versatile dessert, and cost next to nothing - but so many of us still only serve them up…
New chocolate recipes
If you love chocolate and you love…

Try Gordon Ramsay's rich chocolate…

Feast your eyes on these…
Your favourite chocolate recipes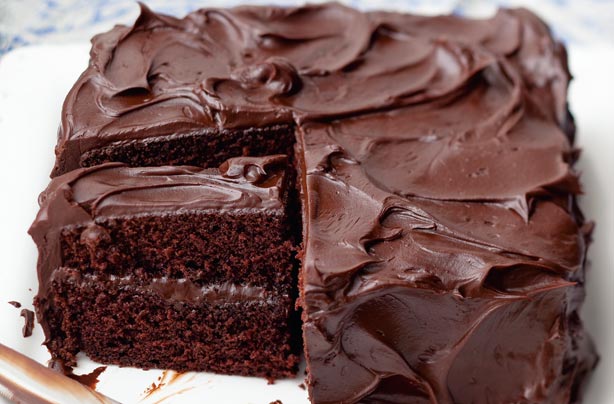 We're sure we're not alone when we say we absolutely love chocolate! Any day of the week, any time of the year, chocolate is always the sweet treat that we crave. It doesn't help when we have so many delicious chocolate recipes and pictures to tempt us. We think we might give in and have a naughty treat - will you join us?
What to make with chocolate
Chocolate can be used in so many different sweet dishes, where do we begin? The ultimate naughty chocolate recipe has to be a chocolate cake - and if you're going to make one you might as well go all out and make our incredible triple layer chocolate cake. Brownies, biscuits, blondies, muffins, cupcakes - we could go on! Baking with chocolate brings a lovely rich flavour to your bakes. Take a look at our top tips from the chocolate experts at Choccywoccydoodah for how to bake with chocolate - they suggest melting it in the microwave rather than over a pan of boiling water.

Another dish that is always improved with a bit of chocolate has got to be dessert. How delicious do naughty chocolate doughnuts, a chocolate ice cream sundae or a dark chocolate tart sound for afters? It's so easy to whip a traditional chocolate fondant for a quick mid-week dessert too - all you need is a little butter, flour, eggs and sugar (and of course, chocolate) and you could be enjoying a delicious chocolate treat in as little as 30 mins - it's the perfect pick-me-up after a rubbish day.

So whether you've got white, dark, plain or milk chocolate in - we'll have an easy chocolate recipe for you.
Check out our
20 ultimate chocolate recipes
- are your favourites in there?
Latest Chocolate collections
Liked our chocolate recipes? You'll love these...