You are here:

Hairy Bikers
Hairy Bikers recipes
A really easy-to-follow recipe for a delicious and rich steak and ale pie from The Hairy Bikers. You can't beat good,…

The Hairy Bikers have created this delicious lower-fat cottage pie for their new show, The Hairy Dieters. It has all the…

You can't beat this traditional British fruit dessert with a dollop of hot and creamy custard - it's the ultimate comfort…

The perfect quick and easy dinner from The Hairy Bikers' new show, The Hairy Dieters. This delicious recipe takes a…
New recipes
The Hairy Bikersí combine spicy pork…

If you're having a Spanish night in,…

The Hairy Bikers have captured the…
Hairy Bikers recipes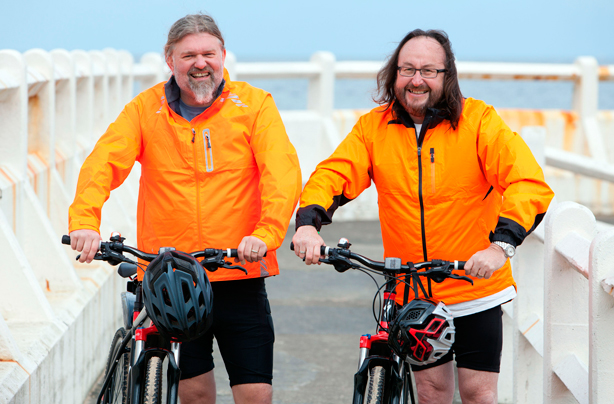 The Hairy Bikers are back with not one but two great TV shows. Watch them this month on The Hairy Dieters: How to Love Food and Lose Weight and The Hairy Bikers' Mississippi Adventure. We love the Hairy Bikers here at goodtoknow and we've got a great range of their classic recipes just for you. From homemade chicken pie to spicy Thai curry - we've got plenty of Hairy Bikers' favourites.
Hairy Bikers' recipes
If you love all things Hairy Bikers' then you'll love some of our quick and easy recipes from the boys. We've got some of their iconic comfort food recipes like crispy chicken and tarragon pie and mouth-watering steak and ale pie. We've also got classic Hairy Bikers dessert recipes like traditional apple and blackberry crumble with warm custard and chewy peanut toffee. And of course we've got some of their classic meat recipes like tender stuffed chicken thighs, succulent roast belly of pork and their famous hearty roast turkey - perfect for Christmas dinner. If you're in the mood for making something delicious and more-ish why not make it a Hairy Bikers recipe?
Hairy Bikers' TV shows

We love the Hairy Bikers TV shows here at goodtoknow. The pair first hit the box in 2005, on their show Hairy Bikers' Cookbook (BBC) where they became famous for their motorbike style, comical Northern antics and of course - their delicious and mouth-watering comfort food recipes.
In 2010, the Hairy Bikers' took us on a journey to find lost family recipes passed down from generation to generation in the series, Mums Know Best (BBC). From childhood favourites to international influenced dishes the boys made some great family recipes throughout the show. The series was so successful they published two cook books just for mums like you to give some a their easy recipes a go.
From family dishes to British classics, the Best of British series (BBC) saw the duo find out more about the history of Great British cuisine and was yet another successful series from the boys.
And not forgetting the legendary Bakeation (BBC), where the pair travelled around Europe sampling and making some very special baked goods. From warm bread to melt-in-the-mouth chocolate, the Northern duo faced a journey of a lifetime.
With some amazing recipes under their belts the pair are now faced with the consequences of eating too many mouth-watering dishes. The new series, The Hairy Dieters (BBC), sees Si and Dave face the challenge of losing weight and eating healthy. Through the show, the boys will join forces with British men and women to find ways to create food that's healthy but still tastes delicious. Inventing new dishes and adapting previous recipes, the pair take on the challenge full steam in this must-watch series.
In mid August expect another dose of Hairy madness in their new series, Mississippi Adventure (Good Food). The boys take on the mountain of food that is America. Travelling to places like Nashville and Memphsis, they take a whirlwind of a journey through the American culture of food and music.
Latest Hairy Bikers collections
Liked our recipes? You'll love these...