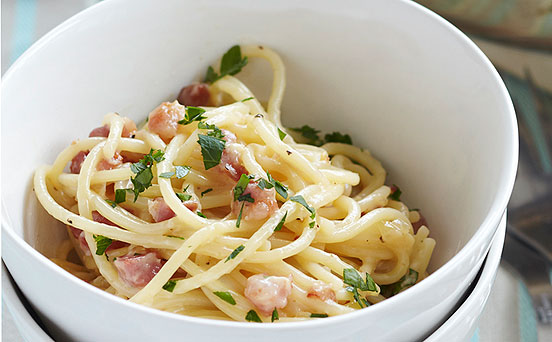 Spaghetti Carbonara
Try our classic
spaghetti carbonara recipeSkill level: Medium
When it comes to spaghetti we usually always opt for spag Bol but you can actually make more than you think with this delicious ingredient including a classic spaghetti carbonara. It's a creamy and mouth-watering dish sprinkled with Parmesan and scattered with streaky bacon. A dash of cream, a couple of eggs and you've got a homemade sauce - you won't believe how easy it is!
Once you've mastered
this Italian favourite you could add different ingredients into the mix like
chicken and mushroom
, or you could turn your carbonara into a mouth-watering, cheese-topped
pasta bake
- the kids will love it, plus you can sneak some veggies in there too.