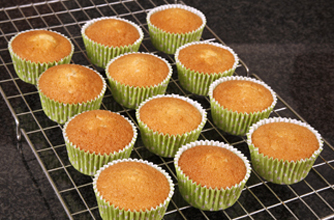 Cupcakes
Try our classic
cupcake recipe
Skill level: Easy
If the thought of making cupcakes scares you - think again! You might have seen all those professional looking ones in the bakeries or online but don?t worry; they?re not as complicated as they look especially when you start with the basic recipe. You could be a cupcake pro in no time.
Once you?ve mastered
making the sponge for the cupcakes you can move onto
decorating them
. Start off easy by using icing sugar, food colours, icing pens and sugar strands. Then you can move onto fondant and sugar paste and begin to get crafty with your designs. Don?t forget flavour is just as important as looks so why not try making
chocolate cupcakes
or even
gluten-free
!