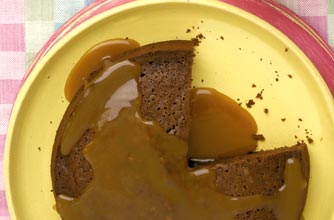 Sticky toffee pudding
Try our classic
sticky toffee pudding recipeSkill level: Medium
This classic British pud is perfect for serving on the weekend?s after a hearty meal with the family and nothing beats the homemade version. It can be tempting to just nip out to the shops and buy a readymade one but trust us when we say, making it from scratch is so much better. A soft, moist sponge with a light, golden toffee sauce - what?s not to like? It?s time to roll up those sleeves and get making!
Once you?ve mastered
the classic you can get fancy and make
apple and sticky toffee mini puds
. You could even make
sticky toffee brownies
? yes, really! We?ve even got a recipe for
sticky toffee cupcakes
! The possibilities are endless.