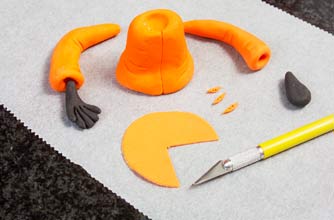 Step 11
For the girl's jacket, take the sugarpaste coloured Tangerine - pinch off a small piece for jacket's arms, hood and toggles, and the boy's hair. With the remainder, make a square shape, tapered for the shoulders. Take the toothpick to mark creases on jacket. With a sharp knife, make an opening for the jacket. Place 4 toggles along the front.

For hood, use cutter to cut out a circle of paste, and remove a section. When realigning the section, it will create the hood. Make 2 sausages for arms and indent them on one end to take hands. Again, create creases in sleeves with toothpick.

For gloves, colour sugarpaste Liquorice. Create a pear shape and make 4 incisions with nail scissors. Roll each digit between your fingers to elongate and shape for gloves. Create movement to the digits using royal icing, insert hands into indents, and place a snowball in each gloved hand.

The boy is assembled in the same way as the girl but with Christmas Red for his jacket. Use Navy-coloured sugarpaste for his jeans, and make a navy scarf from a long, rolled-out rectangular piece. Make his shoes from Licorice-coloured paste and mittens from Bitter Lemon-coloured paste.