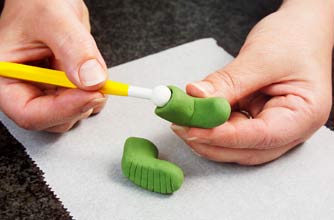 Step 12
For the girl's boots, colour some sugarpaste Spruce Green. Mark tread impressions on the sole of the boot with a sharp knife.

Make the hats by cutting out circles from Rose-coloured sugarpaste (for the girl),and Party Green-coloured (for the boy), removing a wedge and shaping with fingers. Remember to add boy's Tangerine-coloured hair before placing on his hat.

The spade is made up by rolling white sugar paste in a sausage shape for the handle. Then cut a square from it for the spade head and place over the handle. Paint the handle with Dark Brown paste colours and the spade head with silver dust.