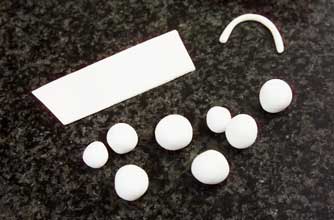 Step 6
Shape about 20 small balls in white sugarpaste for snowballs.

For the bucket, roll out some white sugarpaste and cut in a strip, slicing edges diagonally. Join with cooled, boiled water. Make a handle by rolling a very thin sausage.

Shape two small, round, flattened balls for handle supports. Stick supports and handle with a little royal icing. Colour bucket using drops of rose water mixed with silver-effect dust. Fill bucket with snowballs.