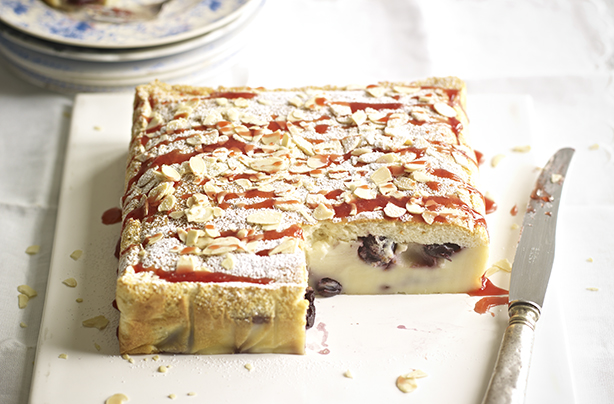 Tray bake recipes
We've got lots of delicious tray bake recipes to choose from! Tray bakes are one of the easiest and most fun bakes to make. Brownies, flapjacks, blondes, there are so many different types of tray bakes to try - where do you start? We've got lots of delicious tray bake recipes to choose from, you're going to be spoilt for choice.
We're here to help you find the best tray bake recipe for you. Do you prefer chocolate, lemon, something fruity? You'll find the perfect tray bake recipe for you in our collection.
The best thing about a tray bake is just how easy it is to make. You simply need to pour your chosen mixture into a lined tray and bake. A slice or cube of tray bake also doesn't need to be heavily decorated, a simple slice of one of these flavoursome bakes is more than enough to put a smile on anyone's face.
This delicious boozy cherry Bakewell magic cake is a quirky tray bake you have to try. It's so easy to make with just one cake batter. This magical cake makes three layers. It tastes as good as it looks.
Get the recipe:
Boozy cherry Bakewell magic cake
They're really good to make with kids too, as you can get them to help add the ingredients and mix the batter. They're so tasty and you can even add them to a lunchbox as they're super easy to transport!
Which of our 40 delicious tray bakes will you choose to make?
Click through to see all of our easy tray bake recipes...