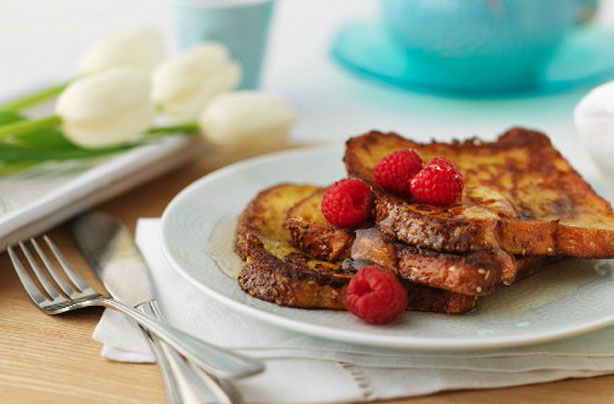 Breakfast in bed recipes
Nothing shows someone you care more than a freshly made breakfast in bed. Mother's Day, Father's Day, birthdays or even just a plain on Sunday, a breakfast in bed is the perfect way to start a lazy day.
When you think of breakfast, your mind often goes to the same old recipes but making a breakfast in bed is the perfect time to try something a little different. French toast, pancakes - even porridge can be given a tasty twist once you know how, we've got lots of breakfast in bed ideas to inspire you.
Things you will need when serving breakfast in bed:
A tray: Big enough to balance food and drinks so you haven't got to go back and forth.
Cutlery: There's nothing worse than getting half way up the stairs and realising you've forgotten the cutlery. Make sure you've got this on your tray before you embark up the stairs.

Napkins or kitchen roll: If you or your loved one is a messy eater, or you've invited the kids into bed for breakfast then paper towels are a must. You'll want breakfast in bed to be a relaxing time without worrying all the crumbs you'll be sleeping on that evening.

Flowers: If you're making breakfast in bed for someone special, make them smile even more by popping a little bouquet or even a single flower into a small vase or jar on your tray - this little gesture will score you extra brownie points and make your array of food look even better.
Reading material: Planning on spending a good amount of time in bed? Make sure you've got plenty of reading material. Sunday's newspapers or your loved ones' favourite magazines will do just nicely.
If you're just in the planning stage, add any recipe you like the look of to your very own
online recipe book
- it's completely free! Just click through to the recipe and click the green save button.
Click through to see all of our breakfast in bed ideas...