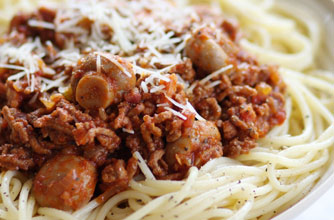 Spag bol as never before!
If spaghetti Bolognese is a favourite in your house, but you're bored of the same old recipe, try adding a little something to give it a new twist.

Spaghetti Bolognese if one of the nation's favourite meals. We love it, but sometimes it's good to ring the changes and give this family favourite a bit of a twist. We've rounded up 12 of our fave Bolognese recipes to help you put a new spin on this delicious dinner.

Try our tuna or veggie Bolognese for budget-friendly alternatives to mince, or cut down on fat by making a lean turkey Bolognese with a rich ragu. You don't have to dish up your Bol with spaghetti either - we've got some fun new ways to serve this classic meat sauce.

Have a look through all of our spaghetti Bolognese with a twist recipes...