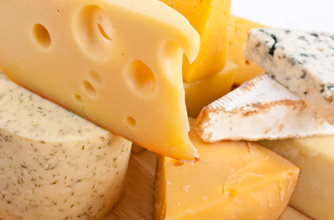 Cheese jokes
In need of a giggle? Here at goodtoknow Towers, there are few things we find funnier than a good cheese joke.

And there are a surprising number of situations in which you might find a cheese joke will come in holey…ahem, sorry handy. Take dinner parties for instance, what better way to impress people round the table than by serving up a good cheese joke? (Not to be confused with a cheesy joke of course, although the majority of these are cheesier than a Quaver…).

Don't let your guests die of cheese boardom (see what we did there?), if the conversation is curdling, reel off some of these cheese jokes to get them giggling again.

And if you've got a friend who's feeling mellower and yellower than a mild cheddar, cheer them up with some of these cheese jokes. Not only will you make them laugh but they'll think you're really mature...sigh.

Have a browse through our favourites in our gallery of cheese jokes – we promise they won't grate on you. If we've left out any corkers, or you've got some cheese jokes of your own you'd like to share with us, be sure to let us know by leaving us a comment.