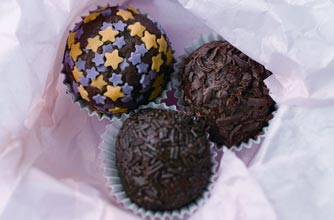 Chocolates
From truffles to peppermint slices, everyone loves a bag of chocolates especially when they're homemade. We've rounded up three of our favourite makes, but when it comes to truffles you can always experiment. They're easily flavoured with different types of coating or a few drops of your favourite essence in the filling mixture.
To make 3 boxes with 5 truffles in each you will need:

Double cream = 28p
Dark chocolate = 60p
Desiccated coconut = 48p
Total
= £1.36

Price per gift
= 45p per 5 truffles


Average packaging costs
Chocolate gift box: £2.80 for pack of 3 boxes
Cellophane presentation bags: £4.00 for pack of 50
Ribbon: £2.00 for 3 metres
How to store/gift wrap
: Store in an airtight Tupperware box for up to 2 months in a cool, dark place. You can store them in the fridge but they may lose their shine. Present in a gift box, just like shop-bought chocolates or pop in a see through gift bag.
Recipes to make:We've got lots more homemade chocolate and sweets here