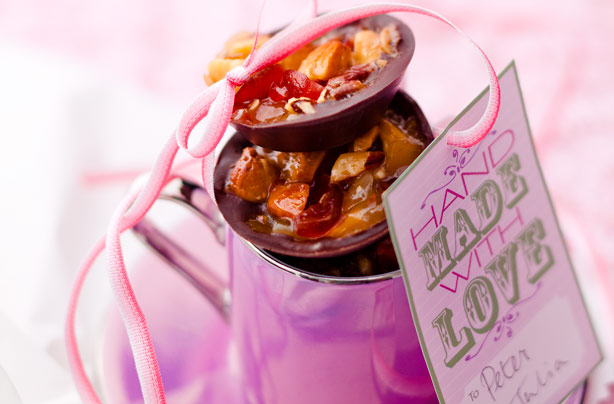 Florentines
Florentines are crunchy, sweet and drizzled in chocolate - what more could you want? They make a lovely fancy treat to take to someone's house when you're popping over for dinner and can be tweaked as Christmas gifts too, with a few red coloured dried fruits and a little edible glitter.
To make 5 boxes with 3 Florentines in each you will need:
Butter = 6p
Sugar = 83p
Honey = 6p
Plain flour = 2p
Glace cherries = 19p
Mixed peel = 11p
Mixed nuts = 57p
Dark chocolate = 45p
Total
= £2.29
Price per gift
= 46p per 3 Florentines
Average packaging costs
Square gift box with handles: £4.79 for pack of 10
Cellophane presentation bags: £4.00 for pack of 50
Ribbon: £2.00 for 3 metres
How to store/gift wrap
: Store your Florentines in an airtight container in a cool, dark place. Pop into a cellophane gift bag and tie with a bow.
Recipes to make: