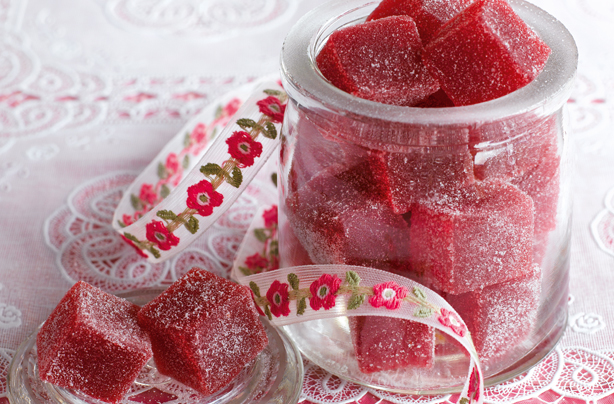 Jellied sweets
For kids and adults, homemade jellied sweets make an extra special food gift especially if they're presented in those old sweet shop tins or glass jars tied up with ribbon.


To make 2 jars of 10 sweets you will need:
Raspberries = £4
Passion fruit = £1.25
Lemon = 10p
Preserving sugar = 91p
Total
= £6.26
Price per gift
= £3.13
Average packaging costs
Jars and airtight lids: £2.50 per jar with lid
Labels: Free! Tags and lables
Ribbon: £2.00 for 3 metres
How to store/gift wrap
: Pop these delicious little treats in a glass jar or tub just like the old sweet shops. Tie with a ribbon or wrap in colourful tissue paper. Make these pastilles the day before you want to give them as a gift.
Recipes to make:Get the recipe: Raspberry and passion fruit pastilles (pictured and priced above)
Get the recipe: Turkish Delights