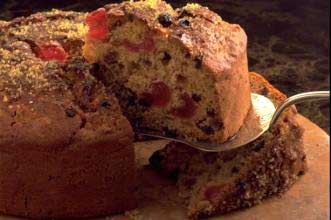 Cake
Whether you're planning on giving your loved ones a slice or the whole thing, cake is the perfect food gift that is sure to put a smile on a lot of faces. A fruit cake will keep the longest out of most recipes, and wrapped up in string and brown paper looks really lovely.
To make a classic fruit cake you will need:
Dried dates = 24p
Mixed dried fruit =£1.01
Butter = 19p
Sugar = 20p
Egg = 33p
Self-raising flour = 16p
Glace cherries = 32p
Total
= £2.45
Price per gift
= 30p per slice (if cut into 8 slices)
Average packaging costs
Cake gift box: £4.00 for pack of 2 boxes
Ribbon: £2.00 for 3 metres
How to store/gift wrap
: Store in an airtight Tupperware box for up to 3-4 days. You can freeze your cake before decorating if you're planning on making it in advance, fruit cakes last much longer than most cakes. Gift wrap with parchment paper and ribbon or in a cake box.
Recipes to make:More cake recipes to choose from