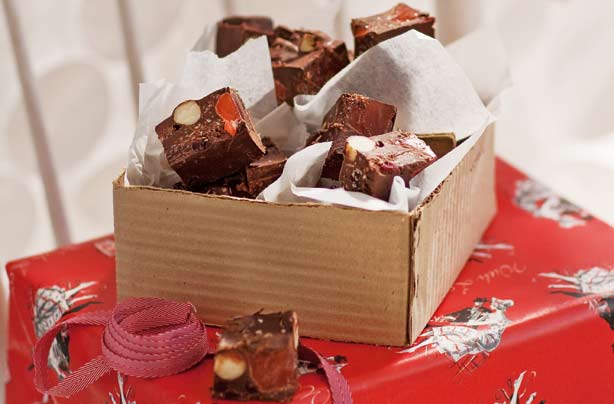 Rocky road
Milk chocolate, white chocolate or even dark, why not make some delicious rocky road as a food gift this year? Just chuck your ingredients in a bowl, pour onto a tray and leave to set in the fridge - simple! In fact, these recipes are so easy that they make lovely projects to do with the kids - with the results making the perfect presents for teachers.
To make 4 boxes with 4 pieces of rocky road in each you will need:
Butter = 20p
Chocolate = £1.40
Golden syrup = 6p
Maltesers = 74p
Chocolate chips = 70p
Marshmallows = 73p
Ginger biscuits = 38p
Total
= £4.21
Price per gift
= £1.05 per 4 pieces
Average packaging costs
Cellophane presentation bags: £4.00 for pack of 50
Square gift box with handles: £4.79 for pack of 10
Ribbon: £2.00 for 3 metres
How to store/gift wrap
: Store in a Tupperware box or on a tray covered in cling film in the fridge. Break or cut into chunks before giving as a gift and pop into a see through bag tie with a bow. Store in the fridge until its ready to be given.
Recipes to make: