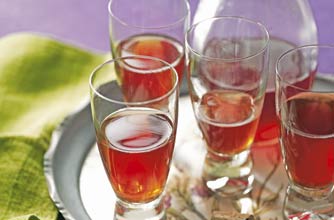 Liqueur
Give your gift hamper or goodie bag an adult twist with some special homemade brew. Sloe gin is the perfect choice at Christmas time but you could try flavouring vodka by adding some chillies or vanilla pods to the bottle or other alcoholic brews made with fruits.
To make 4 pints of sloe gin you will need:
Sloes: £14.85
Gin: £24.25
Sugar: 65p
Almonds: 9p
Total
= £39.84
Price per gift
= £9.96 per pint bottle
Average packaging costs
Glass bottles: £4.00 for 1x 500ml bottle
Ribbon: £2.00 for 3 metres
How to store/gift wrap
: Bottle your alcohol into large, display bottles and tie with a ribbon. Store in a cool dark place to allow the fruit to ferment and add flavour to the drink.
Recipes to make:More alcohol recipes