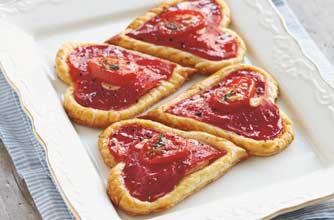 Savoury tarts
Impress your friends and family by giving them a homemade savoury tart. You can buy the pastry readymade so all you have to do is prepare the filling - easy!
To make 12 mini tarts you will need:
Puff pastry = £1.10
Goat's cheese = £1.74
Garlic clove = 6p
Roasted peppers = 58p
Tomatoes =20p
Egg = 33p
Total
= £4.01
Price per gift
= 34p
Average packaging costs
Square gift box with handles: £4.79 for pack of 10
Cupcake boxes: £3.00 for pack of 2 boxes
Ribbon: £2.00 for 3 metres
How to store/gift wrap
: The pastry can be stored in the freezer until its needed which is rather handy. Once you've made your tarts, store them in an airtight container in the fridge. The sooner you give them as a gift, the better they will taste. Package in a cake gift box with baking parchment at the bottom.
Recipes to make:
More of our savoury tart recipes