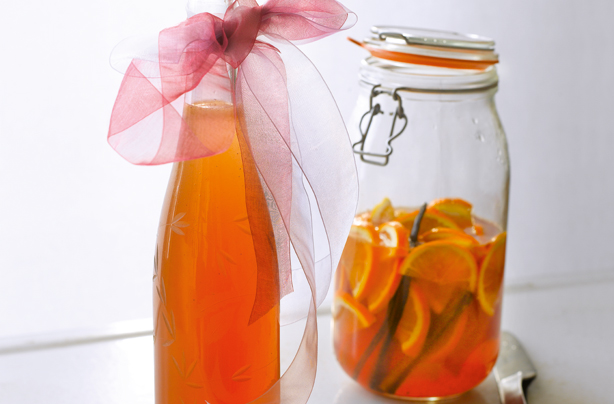 Drinks
Making your own drink is not only lots of fun, it's a great food gift too. One of our favourite recipes for homemade brew is this orange rose wine pictured - easy to make and just looks fab in a long necked bottled tied with a bow.
To make 2x 500ml bottles you will need:
Rose wine = £4
Vodka = £1.43
Brandy = £1.57
Vanilla pod = £1.70
Cinnamon sticks = 37p
Caster sugar = 28p
Seville oranges = 90p
Lemon = 30p
Total
= £10.55
Price per gift
= £5.27
Average packaging costs
Jars and airtight lids: £2.50 per jar with lid
Labels: Free! Tags and labels
Ribbon: £2.00 for 3 metres
How to store/gift wrap
: A glass bottle or jar would make great storage. Tie with a ribbon and pop into a wine gift bag before handing out to friends or family. You can make this wine around 1-2 month ahead of gifting.

Recipes to make:Get the recipe: Homemade orange rose wine
(pictured and priced above)
Get the recipe: Sloe gin
Get the recipe: Elderflower cordial