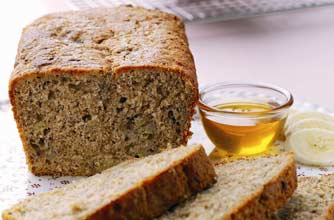 Loaf cake
Nothing says 'I love you' like a warm, freshly baked loaf cake. From banana bread to a classic tea loaf, our loaf cakes collection has plenty of options.
To make a banana loaf, you will need:
Butter = 15p
Sugar = 11p
Egg = 99p
Wholemeal flour = 19p
Baking powder = 7p
Bananas = 45p
Honey = 17p
Total
= £2.13
Price per gift
= 26p per slice (if cut into 8 slices)
Average packaging costs
Wrapping paper: £1.50 for 2.5 metres
Cake gift box: £4.00 for pack of 2 boxes
Ribbon: £2.00 for 3 metres
How to store/gift wrap
: Most loaf cakes will last up to 1 week if stored properly. You can actually freeze cake, but we'd recommend wrapping your loaf in tin foil and popping into an airtight container and store in a cool, dark place. To gift wrap your loaf, a little bit of baking parchment, wrapping paper and a large bow would transform it into a classy gift.
Recipes to make:
We've got lots more loaf cake recipes to choose from