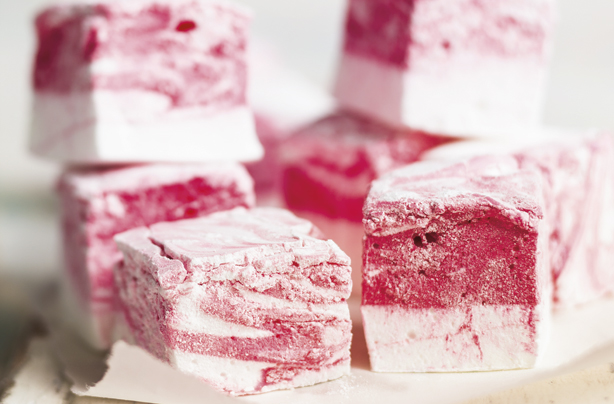 Marshmallows
Show your loved ones how much you care by whipping up some of pillowy marshmallows. From raspberry ripple flavour to pistachio, we've got something for everyone. They might look like they'd be hard to make, but with a little know-how you'd be surprised at just how simply you can whip up a batch.
To make 11 x bags of 7 marshmallows in each, you will need:
Icing sugar = 9p
Cornflour = 12p
Gelatine = £3.27
Caster sugar = 61p
Liquid glucose = 7p
Eggs whites = 16p
Flavouring = 14p
Total
= £4.46
Price per gift
= 45p
Average packaging costs
Cellophane presentation bags: £4.00 for pack of 50
Square gift box with handles: £4.79 for pack of 10
Ribbon: £2.00 for 3 metres
How to store/gift wrap:
Wrap your marshmallows in greaseproof paper and pop in a tin or airtight Tupperware box and store. Once its ready to be given as a gift, place in a gift bag or box and seal.
Recipes to make:Get the recipe: Raspberry ripple marshmallowsGet the recipe: Pistachio marshmallows
Get the recipe: Lemon marshmallows
More marshmallow recipes