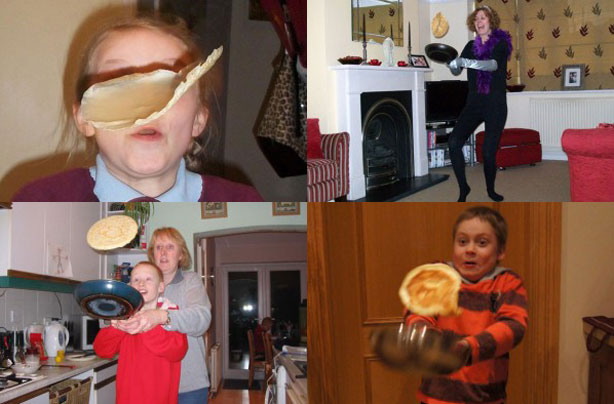 Fun pancake flipping pictures
We just love seeing all your amazing pancake flipping pictures - it's got to be one of the most fun parts of Pancake Day.
How high will it go? Will it land back in the pan or will it end up in a mess on the floor? It's all part of the fun!
The perfect flip is hard to master, there are endless tips and even mathematical equations but we think the best way to get it right is to just give it a go. Pancakes are so easy and cheap to make, it doesn't matter if you lose a few in the flipping practice.
It's not just the kids who will love giving flipping a go, all ages (even those surly teenagers) won't be able to resist giving it a go. You could even have a competition for the most flips or a pancake flipping race to make it even more exciting.
Once you've worn yourself out with all that flipping, you're gonna need a pancake or two! Our
classic pancake recipe
is not produces a flip-friendly result - it's also pretty darn tasty.
So read our
how to make a pancake
guide, whip up a batch and get flipping! We'd love to see any pics of your pancake flips - just post them on our
Facebook page
.