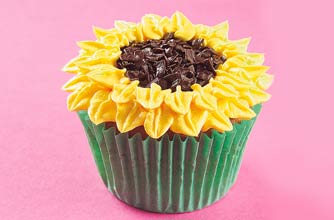 Summer sunflower cupcakes
Having a summer wedding? These pretty summer sunflower cupcakes are sure to impress your guests. The soft vanilla sponge and dark chocolate sprinkle make a delicious combo. Present on a floral flower stand for an eligant touch.
If you want to make a box of these cupcakes as a wedding gift you could change the colour of the petals to suit the colour scheme of the wedding.
Get the recipe:
Summer sunflower cupcakes