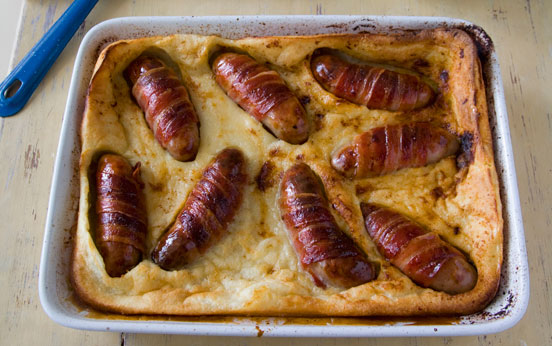 Toad in the hole with bacon
Everyone loves a classic toad in the hole, so what's to say they won't love it on Christmas Day? Our simple and flavoursome toad in the hole with bacon is a twist on a Sunday lunch favourite. It only takes 55 mins to rustle up and is enough to feed 4, so double the ingredients if you've got more guests over. It's also a great way to avoid too much washing up after the meal as it's baked in one dish.
How to serve
: This tasty treat can be served with vegetables such as broccoli, carrots and cabbage. Make sure you've got some thick meaty gravy on stand by and some creamy mash potato.
Top tip
: For extra crispy sausages and bacon fry a little before cooking in the Yorkshire pudding mix - this will give them a crispy outside.
Get the recipe: Toad in the hole with bacon