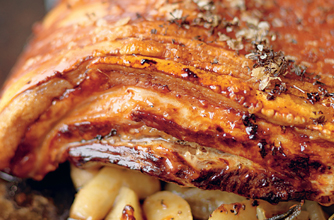 Hairy Biker's roast belly of pork
This extra special roast belly of pork made by the legendary Hairy Bikers is a mouth-watering Christmas turkey alternative. Meat-lovers will appreciate this hearty pork belly as its deeply-scored skin will give you a tasty, crisp crackling.

How to serve:
Serve the pork and crackling with apple and sage and steaming-hot gravy on a large platter. Use a sharp carving knife and carve at the table for full effect.

Top tip:
When cooking the pork, keep the apple and onion pieces snugly underneath the meat so they don't burn.

Get the recipe: Hairy biker's roast belly of pork