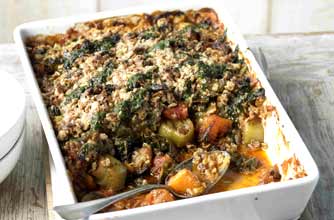 Butternut squash pie
Butternut squash pie is another one to add to the vegetarian Christmas list. This recipe will feed up to 4 people so if you're feeding more hungry mouths, double the ingredients. This recipe is not only healthy but saves on the washing up as all your veggies are packed into one dish.
How to serve:
There's no need to make extra vegetables when this dish is full of them. If you want to serve this dish with something extra, new potatoes would make a great side. If you're worried this dish won't be enough, you can make a medium-sized starter so everyone's happy.
Top tip:
When choosing butternut squash test if you can push a fingernail into the rind, if you can it means it's immature and won't be so tasty or sweet. The rind should be firm and tan or beige coloured (no green tinges).

Get the recipe: Butternut squash pie