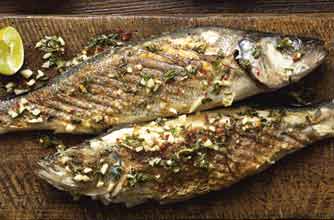 Grilled sea bass with Greek dressing
If you're looking for a simple, fishy alternative our recipe for grilled sea bass with Greek dressing is ideal for a small Christmas dinner. They'll be no arguments over who has more as everyone will have a fish each. For two sea bass, it will take approximately 32 mins to prepare and cook which means you can spend more time with your feet up enjoying a Christmas cocktail.
How to serve
: Give each of your guests a sea bass each and serve immediately after cooking for an extra fresh taste. If you're serving fish to children make sure you or another adult removes the bones before serving.
Top tip:
For the best flavour, grill or roast your sea bass - you won't loose any of those extra tasty juices.
Get the recipe: Grilled sea bass with Greek dressing