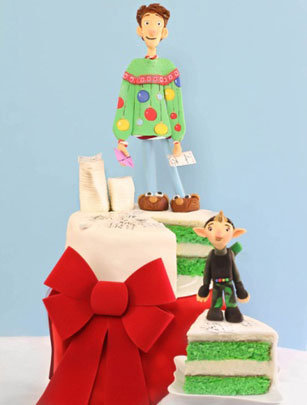 Arthur Christmas cake step by step
Fancy making an impressive Christmas cake this year? Want to take your cake decorating skills to the next level? You should try making this Arthur Christmas cake. With our step-by-step guide, you'll have made your very own masterpiece in no time. The kids will love this bright-coloured, vibrant cake which is full of funky green sponge and topped with Arthur and Bryony from hit animated film Arthur Christmas. Learn how to model your very own cartoon figures and how to make a delicious eggnog infused Christmas cake.

To make Arthur and Bryony you will need:
463g ready-to-use gum paste (pastillage)
Clear vegetable shortening
Wooden skewers or lollipop sticks
Toothpicks
Decorative sugar pearls
Corn syrup or piping gel
Black gel food colouring
Bright white gel food colouring
125g ready-made brown fondant
125g ready-made green fondant
125g ready-made black fondant
Wilton pink colour powder or pink powdered food colouring
Fine-tipped artists' brushes
Leaf green gel food colouring
Peach gel food colouring
Primary yellow gel food colouring
56g primary blue fondant
56g primary yellow fondant
56g primary red fondant
230g white fondant
Standard size decorator piping tip
Plastic drinking straw
Edible black glitter
X-acto knife
Wafer paper
Rubber stamp with script or handwriting motif
Psst! Flick through to find out how to make the delicious eggnog Christmas cake...
Arthur Christmas is released on Blu-ray 3D, Blu-ray, DVD & UltraViolet™ on Nov 19th 2012