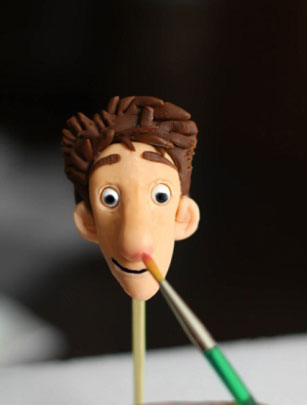 8. Painting Arthur's features
Place hair piece across the top of the head, using corn syrup or piping gel to adhere. You can also press a piece of brown fondant across the back of the head, or you may choose to paint it brown using undiluted brown gel food colouring.

Press the ears into the head piece, just under the hair. Press on two small pieces of fondant for the eyebrows, adhering with the vegetable shortening or corn syrup.

You may also choose to paint on the eyebrows with undiluted brown gel food colouring. Brush pink colour dust on Arthur's nose using a dry artists' brush.