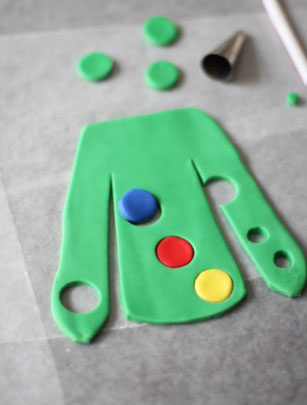 15. Decorating Arthur's jumper
Roll out a small amount of blue, red, yellow and light blue ready-made fondant.

Cut circles in the jumper using a decorator piping tip and drinking straw.

Cut circles of fondant out and fill the corresponding holes. The most defining element of his jumper is the large ornaments in primary colours on the front.

Be sure to execute these as pictured, the rest of the ornament colours can be less discriminate. If you don't have a decorator tip, most any marker or ink pen lid will work too.

When all the holes are filled, gently press and roll entire piece with a rolling pin to flatten and secure fondant pieces.