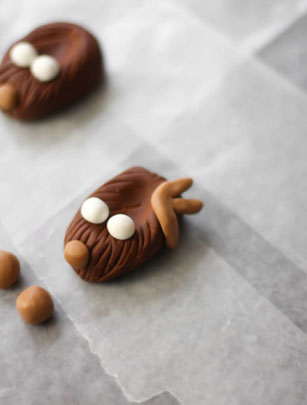 24. Making Arthur's slippers: adding the reindeer face
Roll some of the white fondant into four balls that will be the eyes for the reindeer slippers.

Press them on using corn syrup or piping gel to adhere.

Mix a little of the leftover brown fondant with the white fondant to create light brown fondant for the nose and antlers.

Roll some of the light brown fondant into two small balls and place on the front of the slippers using corn syrup to adhere. Use the remaining light brown fondant to create 3 'F' shapes, and place on the back sides of the slippers, again using corn syrup or piping gel to adhere. Paint black circles in the middle of each white eyeball using undiluted black gel food colouring and an artists' brush.

Allow all elements to stand for several hours before assembling and placing on the cake.