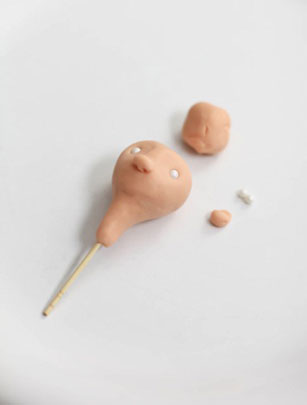 25. Making Bryony
Knead a 56g piece of gum paste with a little of the vegetable shortening. Tint it with a drop of peach gel colouring and yellow gel colouring.

Knead until a consistent colour is achieved. Tear away 1/3 of the gum paste and reserve for the ears and hands. Place this piece in plastic wrap or in a zip-top bag with the air removed. Press remaining piece of gum paste on the end of a long skewer or lollipop stick.

Shape into a ball with a long tapered neck. Bryony has a round nose, so roll a small piece of the reserved paste into a small ball and press into the middle of the face. Use shortening or corn syrup to adhere if it doesn't want to stick naturally.

Press your thumbs into the head next to either side of the nose, contouring the face and creating the eye sockets (as before with Arthur). Bryony's eyes are wide-set, so place two sugar pearls far part on either side of the nose.