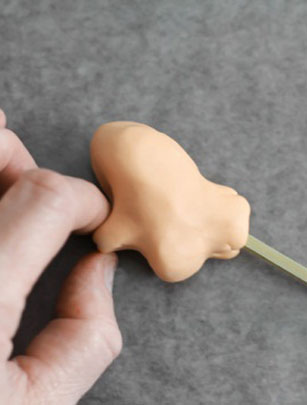 1. Making Arthur
Knead a 60g piece of gum paste with a little of the vegetable shortening. Tint it with a drop of peach gel colouring and yellow gel colouring.

Knead until a consistent colour is achieved. Tear away 1/3 of the the gum paste and reserve for the ears, neck and hands.

Place this piece in plastic wrap or in a zip-top bag with the air removed. Press remaining piece of gum paste on the end of a long skewer or lollipop stick.

Arthur has a long face and bulbous nose so press the gum paste into a slight kidney shape; pinch and pull the centre of the gum paste face to form the nose.

If gum paste begins to dry, rub a little vegetable shortening over the surface.