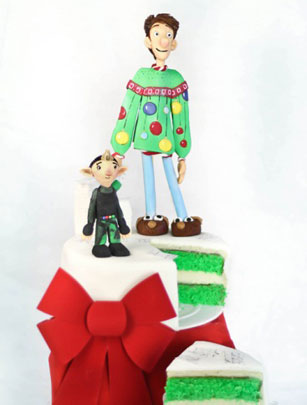 7. Your finished Arthur Christmas cake
Place the finished Bryony figure on the cake with Arthur.
A wrapped present makes a cute cake stand, and that's how we chose do display this cake! Just be sure the wrapped package has enough weight inside to keep the cake very stable.
Arthur Christmas is released on Blu-ray 3D, Blu-ray, DVD & UltraViolet™ on Nov 19th 2012
Where to next?
-
40 Christmas cake ideas
-
Christmas recipes
-
Cake recipes
(more!)