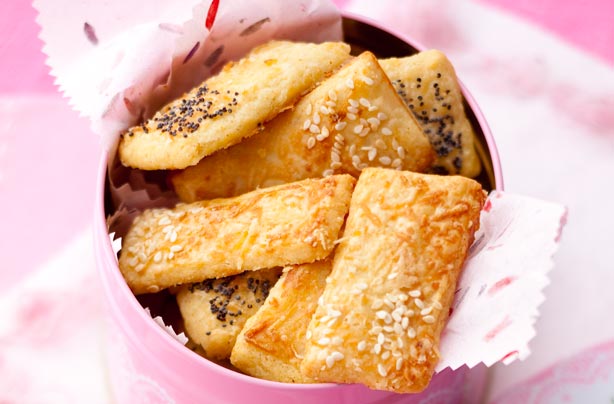 Biscuits
Sweet or savoury,
biscuits
are a must-have at a buffet. They're so simple to make so are easy to whip up quickly if your spread is looking a little bare. Biscuits are great served with cheese, cold meats or if they're sweet as a tasty treat with a warm cuppa, when the party has died down.
Our favourites:
* Our
seeded Parmesan biscuits
(pictured) recipe makes 30 biscuits in one and is best made the day before so they're not rushed on the day. They're crispy and oozing with a rich, cheesy flavour.
* If you've got a Christmas tree in the same room as your buffet table you can decorate it with edible
Christmas cookies
Not only will they look festive, they'll taste it too with a smooth buttery crunch.
* If you're serving slices of cheese, our
oaty cheese biscuits
would make a perfect combo.
How to serve:
If you're serving warm biscuits, place these in a basket so they keep warmer for longer. The savoury biscuits are best sat next to the cheese in case anyone fancies combining the two. Your sweet biscuits can be in your after-dinner section with the cupcakes and bakes.