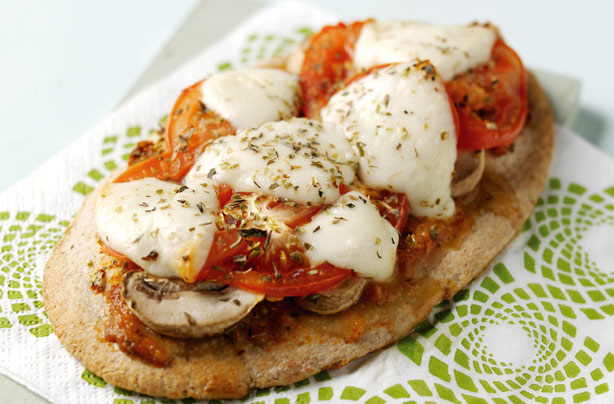 Pizza
Pizzas
are made for sharing, that's why they make a great buffet food choice. From classic cheese and tomato to spicy pepperoni, a pizza is the ideal choice if catering for kids. If you want to get the family involved in the cooking, set out a workshop table with a few pizza bases, jars of tomato sauce, grated cheese and chopped veg - the kids will love assembling the pizzas with you and they won't even realise they're actually helping out!
Our favourites:
* Our
quick pitta pizzas
(pictured) are a small, tasty mouthful that are ready in minutes thanks to the handy switch of pittas for the usual base. If you want to be a little bit healthier you could use wholemeal pitta instead - no one will even notice.
*
Tortilla pizzas
are another one of our favourite cheats. The light base will make sure you're guests aren't too full from one dish - well, you want them to try a bit of everything right?
* Our
quick four cheese pizza
is a great one for the kids. Cut into bite-sized traingles and let everyone help themselves.
How to serve:
Serve your pizzas on a wooden chopping board cut into slice so everyone can help themselves. Made sure there are napkins to hand so none of the kids are tempted to use the sofa or curtains to wipe up!