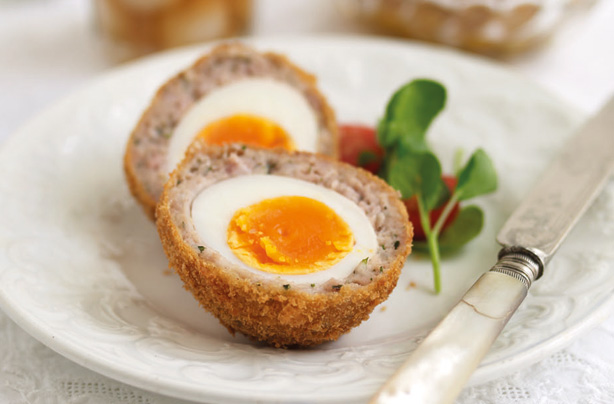 Buffet classics
You can't have a buffet without all the usual suspects such as pork pies, scoth eggs and maybe even jellied eels. No spread is complete without these simple classics and people might be rather disappointed if they're not on the menu - if you want to go all out, make them from scratch.
Our favourites:
* With a succulent pork filling and a thick crisp pastry coating, these
pork pies
are even tastier than the ones from the shops.
*
Mini quiches
are another one of our favourites. Everyone loves a cheesy quiche, plus they're mini so they'll fit perfectly on your guests' plates.
*
Scotch eggs
(pictured) aren't as hard to make as you might think. Cutting through to see the perfectly-cooked egg is very satisfying.

How to serve:
Buffet classics are ideal for spreading all around the buffet table so they don't have to be served in a certain section. Place all of your chosen buffet classic in small bowls or on small plates and place randomly around the table so people don't miss out on the good stuff.