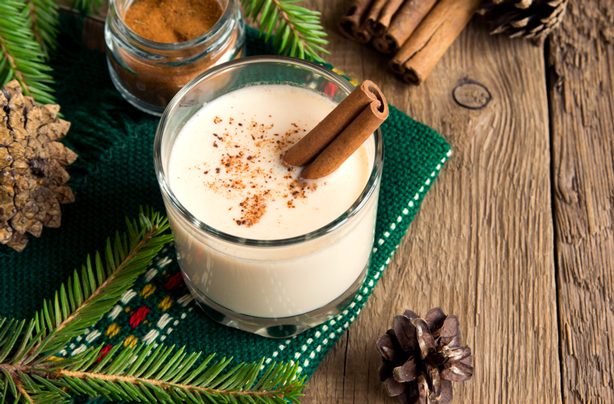 Christmas cocktails
Get the party started with some festive
Christmas cocktails
. From creamy eggnog to warming mulled wine, there are plenty of classic cocktails to choose from.
Our favourites:
*
Mulled wine
is a traditional Christmas drink and it will give all your guests the warm and fuzzies to get them in the Christmas spirit.
* This creamy and delicious
eggnog
(pictured) is next on the Christmas cocktail list. It's frothy, sweet and full of Christmas flavour. Replace the milk in this recipe with brandy, rum or whisky for the adult version.
* Our rich
snowball cocktail
is another favourite that is sure to be a hit at your buffet. It only takes 5 mins to make and combines advocaat and cognac together to make one delicious brew.
How to serve:
Keep all your drinks to one side. Make sure you have variety of glasses like small tumblers for your eggnog and tall Martini glasses for your snowballs. Keep the glasses and alcohol somewhere high so the kids can't reach them, but the adults can see what choices they have. Have some ice in the freezer on standby and plenty of fruit chopped up if the recipe uses it. Print out the recipe for each drink and leave by the bottles and glasses so your guests can help themselves. You could ask one of your friends or family to work behind the 'bar' and make drinks for your guests as they come in. Or if you want to be extra organised you could make your cocktails in advance so all you have to do is pour it into a glass and serve on request.