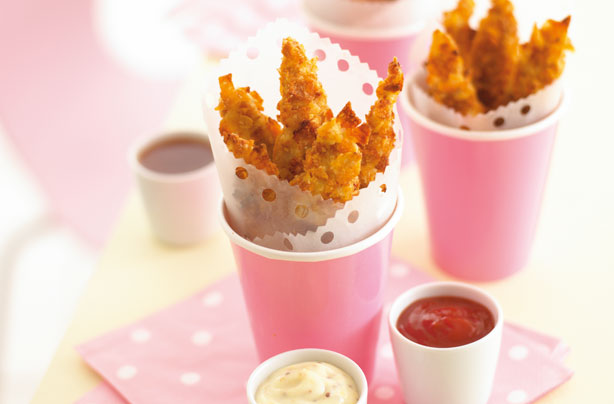 Chicken
You can't go wrong with a helping of
chicken
in a buffet spread. From chicken wings to chicken nuggets, think small and bite-sized and you're sure to please. Chicken is a great choice as it's often cheaper to buy in bulk. Look out for 3-for-2 or BOGOF deals in supermarkets and save some money in the process. We've got plenty of great chicken recipes to choose from and you can always make your favourite dish in mini form.
Our favourites:
* If you fancy something with a kick our
spicy chicken wings
recipe will be right up your street. They only take 25 mins to cook and wings are the cheapest cut to buy.
* Who doesn't love a naughty serving of
Southern fried chicken
? (pictured) You don't need to head to the nearest takeaway though, just try our easy recipe.
*
Chicken dippers
are ideal for children (and big kids too!). Serve with lots of different sauces and watch them disappear.
How to serve:
If you've got any veggies in the family, make sure you keep the chicken away from the vegetarian options or you'll risk being left with lots of veggie dishes no one wants to eat.
A great way of serving your chicken is in a basket or a warmed plate so they don't get cold. If you've cooked your chicken and it's sitting on the table waiting to be eaten, cover in tin foil so it doesn't lose it's heat and take off when your guests look like they're ready to tuck in.