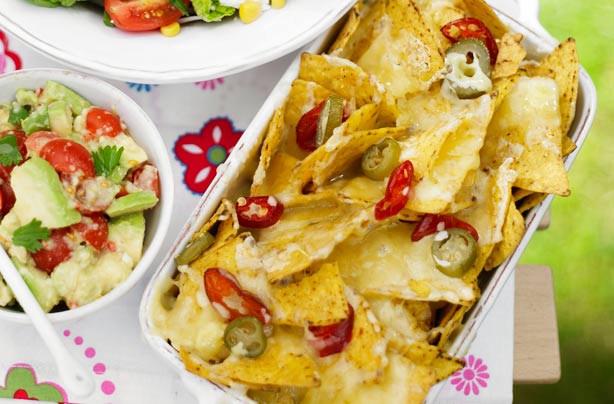 Mexican cuisine
Mexican
is another one of those tasty cuisines we just can't seem to get enough of. Sweet and savoury Mexican recipes are ideal for your buffet as loads of them can be eaten with no cutlery. They're also great for making in large quantities, so you're guests will have plenty to choose from and you won't have to worry about running out of food.
Our favourites:
*
Burrito
s - this traditional Mexican wrap is a great one for letting your guests get involved in the food making. All you have to do is prepare the meat mix and they can just help themselves to the extras.
*
Homemade churros
are sure to impress your guests and if they don't, the little pot of melted chocolate sauce with them certainly will!
* The mother of all Mexican food is
nachos
(pictured). Piled up high, a classic plate of nachos with salsa, sour cream and all the trimmings are the ultimate centre piece.
How to serve:
You could have a whole 'help yourself' section for the burritos where your friends and family can form an orderly queue along the burrito line and help themselves to a wrap, then meat mix, then any extra sauces, salads, rices and cheese etc. Lining your dishes up and having a queuing system will keep your buffet organised, especially if you have a lot of people.
If you're opting for the cheese and chilli nachos you'll need a very large serving bowl or porcelain dish.
The churros and chocolate would be delicious served on a plate preferably next to the napkins, incase you have any messy guests.