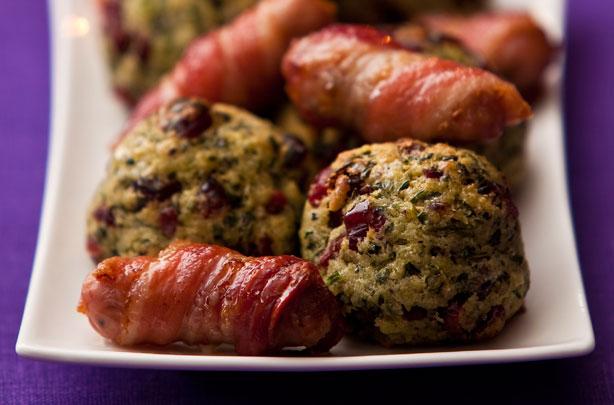 Sausages
The idea of a buffet is that people can pick and choose what they like, so it's always best to have a variety of options. Another one of our must-haves is
sausages
. Now you may just think bangers and mash or kids' parties - but sausages are a great buffet food especially at Christmas time.
Our favourites:
* First on our list is
bacon wrapped sausages
, otherwise known as 'pigs in blankets'. These meaty delights are full of flavour and take no time at all to make. Just ensure you have plenty as they're usually first to go.
* Our
twisty sausage rolls
are meaty and delicious and an easy way to go if you're making your own from scratch. WIth only half the pastry, they're lighter too so your guests won't get too full.
* Sometime all sausages need is a little extra flavour. This recipe for
sticky sausages and sweet chilli dip
(pictured) is the perfect way to give them a boost.

How to serve:
It's best to serve your sausages on a napkin covered plate in case they're greasy. The napkin will absorb the grease and look good too (especially if it's Christmas themed!). If you've chosen to make our Christmas cocktail sausages, these can be served directly on a large plate or plater.