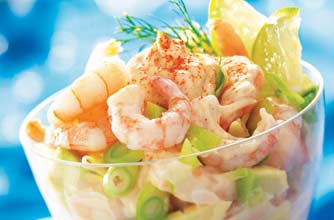 Fish
Fish
doesn't have to be expensive, especially when it comes to a buffet. Looking for multi-packs or cheap deals is a great way of getting the best seafood at an affordable price. From fish cakes to prawn cocktails and fancy smoked salmon, no buffet is complete with a serving of fish.
Our favourites:
* Fish cakes are simple to make and can be made to whatever size you'd prefer. Our tasty
smoked cod fish cakes
are a great choice.
* It's a classic! A
prawn cocktail
(pictured) is always a winner at parites. If you make it yourself you can ensure the prawns are covered in as much sauce as you want. Serve with crisp lettuce and watch your guests snatch them up.
* Bite-sized crispy
cod nuggets
are a nice alternative to chicken nuggets - pefect for those little hands at the buffet table.
How to serve
If you've chosen to serve prawn cocktail you could make mini ones by serving them in shot glasses or small wine glass with a bed of crisp salad. For other fish nibbles serve in a basket so the fish will keep warmer for longer.