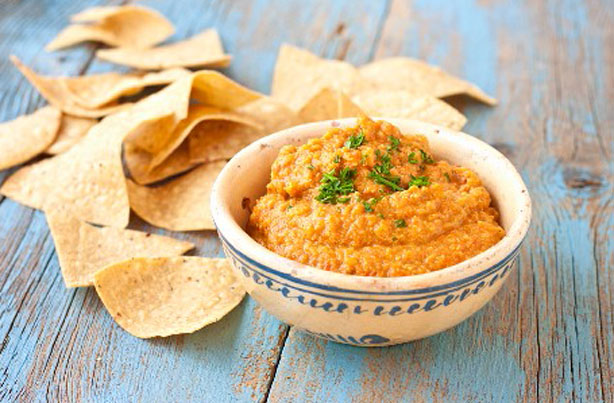 Dips
You can't have a buffet spread without a few dips for those crisps, chopped carrots or pitta breads - but have you ever thought of making them from scratch?
Homemade dips
are surpringly easy to make and they taste so much better than the shop-bought ones. All you need to do is whizz all the ingredients together with a hand blender or food processor and they're done - easy!
Our favourites:
* Our roasted
chilli pepper hummus
(pictured) takes a classic dip and gives it a subtle twist by adding juicy red peppers. If you're serving bread at your buffet, hummus should definitely be on the table.
* Creamy, smooth and
easy guacamole
is a Mexican classic that's made using fresh avocado and is perfect served with nachos.
* Spice up your night with a simple
salsa
- it's great for giving your crisps and pitta a firey tomato kick.
* Complete your selection of dips with the fresh and
creamy cheese and chive dip
- it's perfect for coating your crunchy cucumber in.
How to serve:

Once you've made your chosen dip, pop it into a medium bowl and leave in the centre of the table surrounded by freshly prepared vegetables like chopped carrot and cucumber along with pitta bread, breadsticks and anything else you fancy. Make your dip the centrepiece of the table.
If you've got more than one dip, serve them in small bowls instead. Leave a spoon in each of the dips so people can scoop some onto their plates if they don't want to hover around the buffet table.